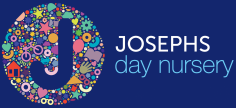 We are situated in a converted cricket pavilion, hidden away from the hustle and bustle of the main roads which service the Clifton and Rawcliffe area of York.
The nursery is situated on the ground floor and offers care for children aged 0-5 years. The baby room staff welcome babies from the age of 6 weeks to 2 years and the Over Two's Room welcomes children from the age of two until they start school. We have an internal security system - keeping your children safe is paramount. We are able to offer school pick up's from local schools. We can also offer flexible sessions for shift workers.
Our highly experienced staff provide a safe, stimulating, loving and homely environment, where children can flourish into their own unique selves. We have a fabulous nursery cook who provides us with delicious home cooked meals and baking, using home grown produce.
If you would like to come and meet us please contact us to arrange a "Nursery Tour".
Josephs Nursery, The Pavilion, Rawcliffe Lane, York, YO30 6NP  Tel: 01904 651767
email: josephs@yorkchildcare.co.uk
Manager - Renate Sangwine (Temporary Manager)
Contact >